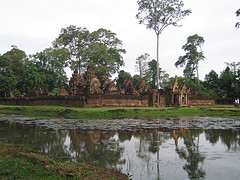 It's our last evening in Siem Reap. Lots to recount but I'll try and keep it brief.
On Saturday we headed out to Banteay Srei as we planned. It was well worth the 40 min drive if only for the view of the countryside and villages that we passed through. We left early enough to avoid the hordes – there was a procession of tour buses heading out there on our return journey.
After stopping at another temple whose name I forget we headed back to the main Angkor complex with a small diversion looking for one of the very minor temples. The road out to it was a muddy track and the temple itself was a bit of a mystery – to Mr Sna our tuk-tuk driver and locals alike. We gave up after half an hour of fruitless searching but got to see some of the countryside off the tourist trail.
After a very long lunch to try and avoid the worst of the heat we completed the "outer circuit" in the afternoon. The highlight was definitely Preah Khan it had similar qualities to Ta Prohm with overgrown and partially destryed sections but with a greater variety of spaces including some interesting courtyards and secret passages.
Yesterday we hired bikes and rode back out to Angkor Wat itself. Cambodian bikes are definitely not designed for people my size so had a few structural issues on the way out. It was a beautiful morning however and the ride made the journey much more pleasant. Once inside the Wat we spent the morning reading in various nooks and crannies while slowly taking in the bas-reliefs along the galleries at the base of the temple.
For dinner we finally caught up with some of Chhay's relatives and had a fantastic feast of sour soup, prawns and baked fish. The food (and the company) was so good in fact that we were back there for lunch today and are on our way back for dinner at the moment!
This morning we headed out to the Floating Village with one of Chhay's cousins. Floating schools, floating workshops even floating pig farms, it was all there. After using our local contacts to finally grab some food at local prices we went to the West Barray, a giant man-made lake that was part of the Angkor complex and around which the locals have set up awnings and hammock to chill out in. I went for a bit of a dip but the water was the temperature of a bath so it wasn't particularly refreshing.
We are off to Battambang tomorrow – it is the provincial capital and supposedly quite a sleeply little place to chill out in (although I am tearing through our reading material with all the relaxing we have been doing & won't have much left soon). We are taking the boat which is supposed to be quite spectacular – as long as it doesn't sink!